Welcome!
The New Renaissance Theatre Company (NRTC) is a 501 (c)(3) non-profit founded by Andy Kirtland and Elizabeth Ruelas in order to grow the mission of
The Unrehearsed Shakespeare Project
(USP) as well as our other theatrical goals including the growth and nurture of a theatrical ensemble. We are based in Pittsburgh, PA.
2018: All the World's a Stage

We are seeking Actors, Apprentices and an Assistant Stage Manager for USP's 5th Annual Tour!
Click on the banners below to submit. Everyone is welcome!

Watch out NYC,
Here Comes NRTC



Since all the world's a stage, we are going to use more of it. This February 24 & 25, NRTC is co-producing our first project in New York City! We are presenting a staged reading of Twelfth Night, or What You Will in conjunction with Holla Holla Productions. This beloved comedy about love, loss and reunion is directed by NRTC Co-Founder Elizabeth Ruelas and features Company Member Nick Benninger. If you will be around Manhattan at the end of February, check out these FREE performances at the 14th Street Y.



---
Coming in July
The Unrehearsed Shakespeare Project's 5th Summer Tour:
As you Like it
&
The Life of Henry the Fift
Directed by Andy Kirtland. These popular plays illustrate themes of theatricality and role playing in public and private lives. What parts do we play? Who do we play them for? What do we hope to gain? Are we really the roles we play? By performing these stories using the Unrehearsed Cue Script Technique, these themes come to the fore in an entertaining way with USP's signature style. Auditions and the schedule will be announced in early 2018. Stay tuned!
---
What to expect in 2018

Happy New Year, everyone!

Here's a little of what you can expect from NRTC and USP in 2018.

"For our fifth tour, we will demonstrate how, as Shakespeare once said, 'all the world's a stage.'

As you Like it and The Life of Henry the Fift display fantastic examples of role-playing in different facets of our lives. They display how we play different characters for one another, and the personas we create for ourselves. When, why and for whom do we put on these characters?

"

Click here to read the rest.
---
How to Support The New Renaissance
NRTC is a 501(c)(3) non-profit. Donations are tax deductible.

We depend on your donations to help us pay our talented actors and artists, buy costumes and props, cover our shows' printing costs and to keep our theatre company (which includes
The Unrehearsed Shakespeare Project
) running.
Donors will also be thanked in our show program, on our website and social media (unless otherwise requested).
Thank you for your very valuable support.
AmazonSmile is a simple and automatic way for you to support your favorite charitable organization every time you shop, at no cost to you. Click on the header to start shopping with Amazon Smile, and Amazon will donate a portion of the purchase price to NRTC.
Thank you for your support of The New Renaissance!

---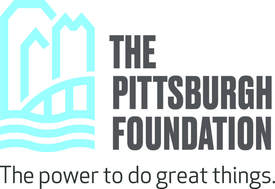 Funding for The New Renaissance Theatre Company was provided by the A W Mellon Project Support Fund of The Pittsburgh Foundation.

In 2015, the Foundation and its Supporting Organizations awarded $55.3 million in grants to a vast array of nonprofit organizations, students through scholarships, and medical researchers, based on donor interest and specific purposes of individual funds.
Since 1945, The Pittsburgh Foundation has been connecting its generous donors with the critical needs of our community. Donors who have established funds through the Foundation can support virtually any area of charitable interest in Pittsburgh, or anywhere in the United States. Because the Foundation is a public charity, donors benefit from significant tax advantages.
Endowment funds held by the Foundation range from $10,000 to $40 million, created by individuals and organizations with a passion for Pittsburgh and a deep commitment to their community. More than 2,000 individuals, families and organizations have established funds at The Pittsburgh Foundation, which exists in perpetuity - growing each year - to provide an ever-increasing resource to benefit the community.

---
---