Welcome!
The New Renaissance Theatre Company (NRTC) is a 501 (c)(3) non-profit founded by Andy Kirtland and Elizabeth Ruelas in order to grow the mission of
The Unrehearsed Shakespeare Project
(USP) as well as our other theatrical goals including the growth and nurture of a theatrical ensemble. We are based in Pittsburgh, PA.
The New Renaissance Theatre Company presents
Tickets for Wittenberg
ON SALE NOW


Welcome back to a new year at Wittenberg University with its royal students and famous faculty! Young Hamlet, Prince of Denmark, returns to school from a summer semester spent studying in Poland with Nikolai Copernik. His world has been sent spinning, literally. His professors and mentors, Dr. John Faust (yes, that Faust) and Martin Luther (yes, that Martin Luther) aren't faring any better. Faust is in love with Helen, an ex-nun turned most famous courtesan in Europe, and Luther is struggling with his feelings about the church. This 'tragical-comical-historical' play mashes these three giants of English renaissance together and shows us who they might have been before they became the personalities we know.

​Complete with therapy sessions, tennis matches, lectures and late-night drinking at The Bunghole, this campus comedy has something for everyone.


19 - 28 October
Fri. & Sat 8pm, Sun 6pm


General Admission $20
Sunday 28 October: Pay-What-You-Will!
| | | | |
| --- | --- | --- | --- |
| Nick Benninger (Hamlet) is a Pittsburgh-based actor and a member of The New Renaissance Theatre Company. He graduated from Slippery Rock University in 2013 with a degree in Theatre for acting. He has appeared with The Unrehearsed Shakespeare Project's productions of Much Ado About Nothing, A Midsummer Night's Dream, Romeo and Juliet, The Taming of the Shrew, Macbeth, Henry V, and As You Like It. Other credits include Pittsburgh Shakespeare in the Park (Two Gentlemen of Verona, Henry V, Comedy of Errors, King Lear, As You Like It), Unseam'd Shakespeare Company (The Tempest, or The Enchanted Isle), Future Tenant 12 Festival, and The Pittsburgh Fringe Festival. He works as a call center agent for Level Agency. | Shannon Donovan (Gretchen, Helen, Mary, Lady Voltemand) is a Point Park Conservatory for the Performing Arts graduate with a BFA in Theater with a focus in Movement and Stage Combat. She has been last seen in "All the Fights" at Pearl Arts Studio, and also at the National Stage Combat Workshop. Her favorite roles she played were Sooze in "SubUrbia" and Jo March in "You on the Moors Now" at Point Park. She enjoys swashbuckling, acting, devising theater, and directing. She'd like to thank her director, cast, and crew! She hopes you enjoy the thought-provoking madness that's about to ensue. | Kevin H. Moore (Dr. Faust), from Aliquippa, PA, is beyond grateful to be joining the New Renaissance Theatre Company for this production. After studying Theatre at Slippery Rock University, he relocated to Pittsburgh where he appeared in productions with Pittsburgh Playwrights, Throughline Theatre, Pittsburgh Irish Classical theatre, Saltworks, Pittsburgh Classic Players, and Little Lake, among others. He'd love to thank Andy, Charlene, and the cast for a supportive and lovely experience. Lastly, all gratitude to his family and friends for their love and encouragement. | Adam Rutledge (Luther): Adam is very excited to join the cast of NRTC's first main stage show. Also with NRTC, Adam has performed in every Unrehearsed Shakespeare Project tour since 2014. In the Pittsburgh area, Adam has performed with numerous companies, including Poor Yorick's Players, Brawling Bard Theater (at all five Pittsburgh Fringe Festivals, including the Best-Ensemble-Award-winning "A Dream of Midsummer"), Pittsburgh Shakespeare in the Parks and Prime Stage Theater. Adam has also directed for Poor Yorick's Players and is a fight choreographer and stage combatant with training under the Society of American Fight Directors since 2004. |
---
Why Wittenberg?
"Looking around us today, with the acceleration of technology and new advances in scientific and philosophic theories, it's possible to believe that we are on the verge of such another discovery. What would happen to us today if all of a sudden, through the use of virtual reality, we discover some truth about existence of which we currently have no concept? How do you go back to work when you realize that what you've dedicated your life to no longer resembles the place where you have placed so much faith for so long? "

Click here to read the rest.
---
How to Support The New Renaissance
NRTC is a 501(c)(3) non-profit. Donations are tax deductible.

We depend on your donations to help us pay our talented actors and artists, buy costumes and props, cover our shows' printing costs and to keep our theatre company (which includes
The Unrehearsed Shakespeare Project
) running.
Donors will also be thanked in our show program, on our website and social media (unless otherwise requested).
Thank you for your very valuable support.
AmazonSmile is a simple and automatic way for you to support your favorite charitable organization every time you shop, at no cost to you. Click on the header to start shopping with Amazon Smile, and Amazon will donate a portion of the purchase price to NRTC.
Thank you for your support of The New Renaissance!
---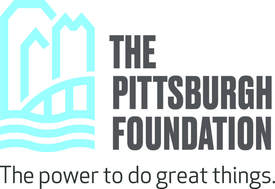 Funding for The New Renaissance Theatre Company was provided by the A W Mellon Project Support Fund of The Pittsburgh Foundation.

In 2015, the Foundation and its Supporting Organizations awarded $55.3 million in grants to a vast array of nonprofit organizations, students through scholarships, and medical researchers, based on donor interest and specific purposes of individual funds.
Since 1945, The Pittsburgh Foundation has been connecting its generous donors with the critical needs of our community. Donors who have established funds through the Foundation can support virtually any area of charitable interest in Pittsburgh, or anywhere in the United States. Because the Foundation is a public charity, donors benefit from significant tax advantages.
Endowment funds held by the Foundation range from $10,000 to $40 million, created by individuals and organizations with a passion for Pittsburgh and a deep commitment to their community. More than 2,000 individuals, families and organizations have established funds at The Pittsburgh Foundation, which exists in perpetuity - growing each year - to provide an ever-increasing resource to benefit the community.

---
---